The Kore History
2008
Kore launches with a focus on creating a biosolids-based waste to energy technology for water recovery facilities.
2009
Five-year on-site pilot test with the LA County Sanitation District commences.
2012
Kore receives the Green Chemistry Award from the U.S. Environmental Protection Agency.
2015–2016
Kore designs and builds two commercial-scale pyrolysis prototype units designed to turn organic waste into biogas.
2016–2017
Southern California's South Coast Air Quality Management District awards Kore a $1 million grant.
2017
SoCalGas, the nation's largest gas utility, awards Kore a $1.5 million grant to support a commercial facility of its waste to biogas pyrolysis system on a site in downtown Los Angeles.
2019
Installation begins for SoCalGas facility.
2021
Kore's fully permitted first commercial facility begins operating in August to demonstrate proof of concept for customer applications.
2022
Kore to begin producing renewable hydrogen and implement client projects 2 and 3 (275 tons/day).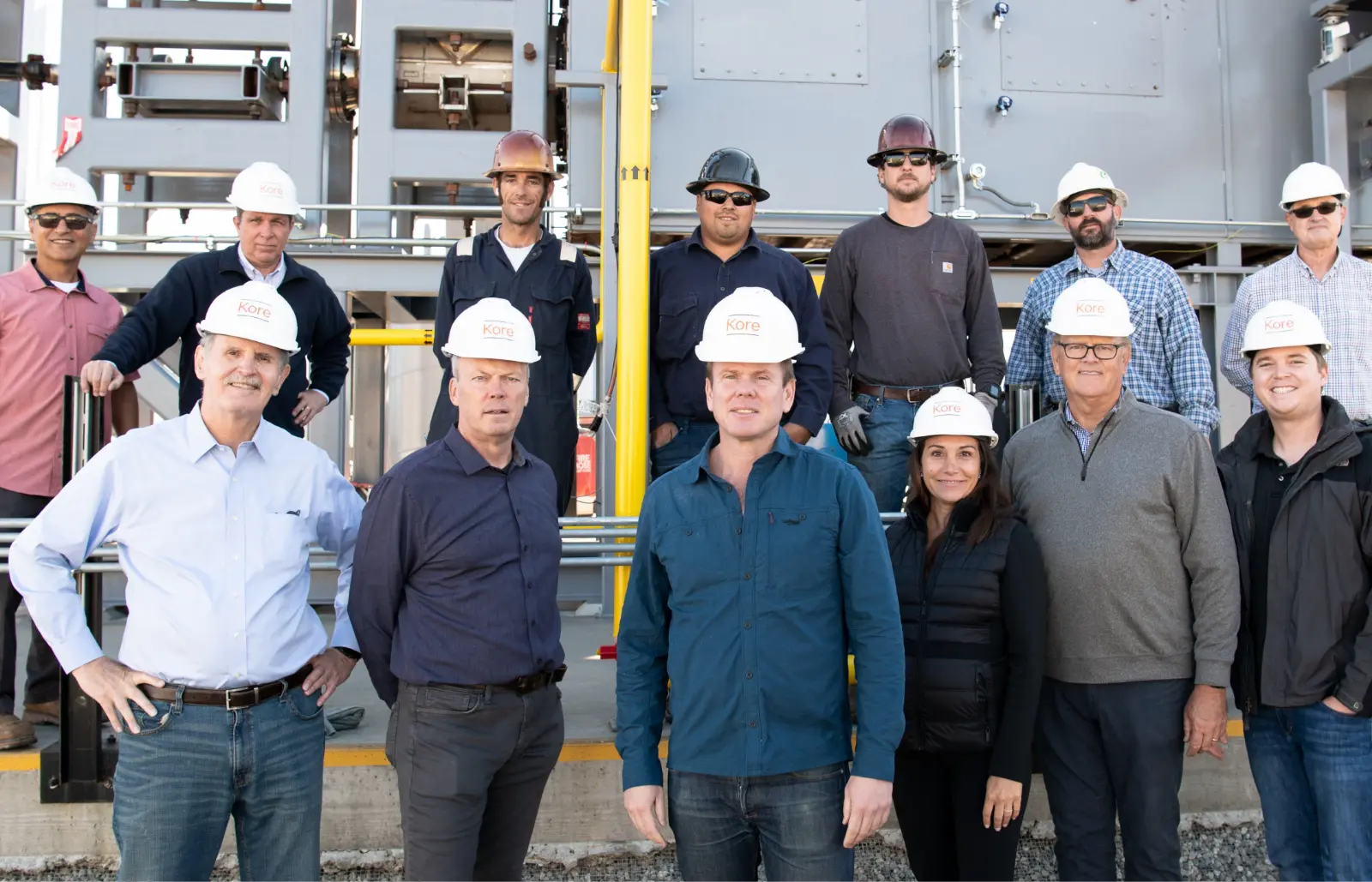 "Kore's mission is to commercialize an innovative solution that will rebalance profit and planet by unlocking the energy in what humanity discards."
Cornelius Shields
Cornelius Shields
Founder
Cornelius Shields is an investor and serial entrepreneur with more than 25 years of experience building and growing companies. After a successful career on Wall Street, he shifted focus to build Kore, a mission-driven company with an innovation that can solve the biggest environmental challenges of our time. He assembled a team that represents an exceptional alignment of environmental, business, and technical expertise. Together, they've leveraged a global network of strategic relationships across industries and sectors, leading Kore to develop a solution for turning waste into energy at scale.
Why I founded Kore:
"I started this journey certain of two things: First, market-driven innovation is key to overcoming the threats to our planet, and second, innovation is extremely hard. All my life, I have welcomed solving hard problems in service of a worthy goal. Birthing an innovation where waste becomes a sustainable energy resource shapes the future for my young son and generations to come in a profound way."
David Harding
Chief Financial Officer
David Harding has a background in tech-driven businesses and more than 30 years of experience as a financial expert in dynamic, fast-changing industries. Formerly a Director of Mergers and Acquisitions at Waste Management, he has served as CFO at several start-ups, including Remote Proximity, a pioneer in virtual meeting software. He has also served on the boards of a number of companies, including Arena, which produced digital authentication licenses for sports memorabilia. David has been with Kore since its inception.
Why I joined Kore:
"I had a background in waste and recycling, so I knew the red herrings and had seen all these start-ups that were supposed to change the world. I understood right away that Kore's technology actually had real potential to do just that."
Dave Husen
Chief Operating Officer
An accomplished business executive with a background in chemical engineering, David Husen has more than 35 years of experience in water and wastewater management, as well as in thermal processing systems, both in the United States and the Middle East. He has an exceptional track record of developing, selling, and installing complex industrial systems and has held business management and project management positions at CH2M Hill Engineers (now Jacobs Engineering) and various executive roles at Siemens Water Technologies during his 17-year tenure there.
Why I joined Kore:
"Something like this had never been done before at scale, but it all checked out: The system can process a huge variety of feedstocks, and there is growing demand for hydrogen and alternatives to conventional waste disposal. There is nothing about this technology that is not scalable."
Joseph Zuback
Technical Lead
Joe Zuback is a recognized global authority on environmental technology development, having served as the Chief Technology Officer for Siemens Water Technologies, where he oversaw $22 million in R&D activities and won the Siemens Inventor of the Year award. He also served as a Senior Vice President for Corporate Projects at USFilter, where his oversight of acquisitions helped the company grow its revenue from $50 million to $5 billion in five years. Joe has more than 25 water technology patents, either awarded or pending.
Why I joined Kore:
"I feel a strong personal obligation to make my skills and experience available to companies that are developing real solutions to the climate crisis, and right now my goal is to demonstrate that Kore's technology and business model are a new arrow in the quiver of sustainable, scalable, and economically viable climate change solutions."
Steve Wirtel, P.E.
Executive Vice President, Business Development
With a background in civil and environmental engineering, Steve Wirtel is a business development executive with 30 years of experience in the water and wastewater markets. As a partner and director at Carollo Engineers, an environmental engineering firm, he oversaw a $12 million business development budget, implemented company-wide sales and marketing strategies, and launched a major rebranding. Steve was the Senior Vice President for Nutrient Recovery at Ostara Nutrient Recovery Technologies, where he helped clients extract valuable nitrogen and phosphorus from liquid wastes. He also held an executive management position with USFilter.
Why I joined Kore:
"Having worked at companies that accomplished some meaningful incremental change, I was ready for a leapfrogging kind of transformation. When I saw what Kore was doing, I was certain we could pioneer a new path forward."